Contact Us
Email us at
sales@displayimporter.com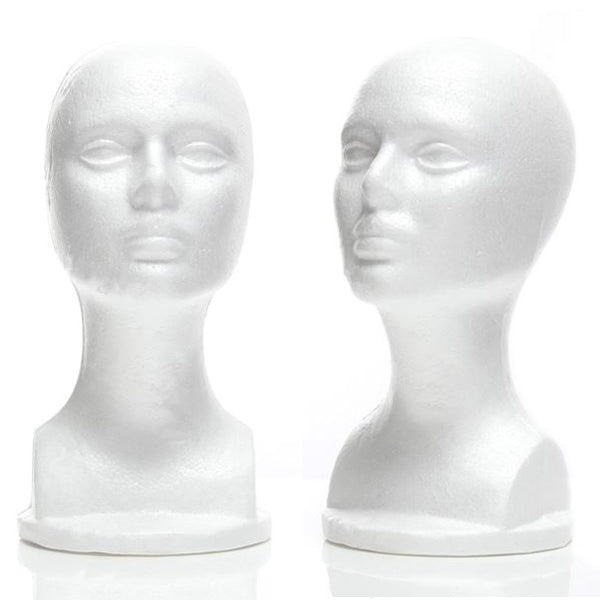 Click below for more photos. Desktop: Hover to zoom in.
MN-434LTP Female Styrofoam Mannequin Head Bust (LESS THAN PERFECT, FINAL SALE)
---
These are BRAND NEW foam heads in less than perfect condition. They either have some slight discoloring, small dents, creases and wrinkling on the foam surface, and/or slightly flattened noses from being packed in the box too tightly and pushed against the side of the box. There are no missing chunks. Sold as-is and is final sale. See pictures for details.
Constructed in styrofoam. Great for displaying hats, wigs, scarves, necklaces, sunglasses, goggles, and helmets.
All foam heads are shipped in a box to protect it during transit. Other sellers offer a lesser shipping rate because they ship theirs in a bag which WILL result in dents all over the surface during transit. A box will protect the foam head from dents.
Measurements:
12.5" H x 6.5" W, 19.2" Head Size
Product Notes:
Unit price is for 1 pc. This item can ship at most 8 pcs to a box. For orders of 9-16 pcs, it will consist of 2 boxes. Purchasing in multiples of 8 will have the most cost effective shipping rate.
Please note that even though this is an inexpensive and light weight item, it is still a medium-sized item and will be charged by its dimensional weight by the shipping carrier. Therefore, shipping only a few pieces may have a shipping rate that is more than the cost of the head form depending on ship to location.
---
Share this Product
---
More from this category