Contact Us
Email us at
sales@displayimporter.com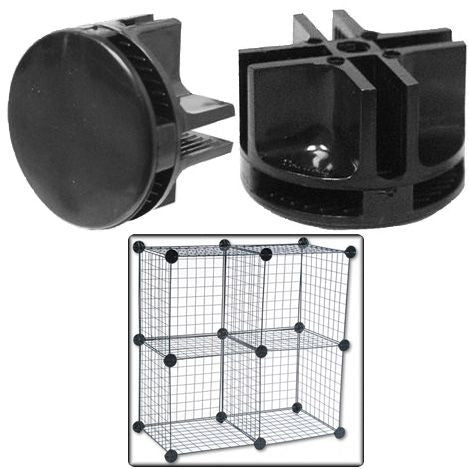 Click below for more photos. Desktop: Hover to zoom in.
AF-034 Black Plastic Mini Wire Grid 8-Way Connector (for 14x14 Panels)
---
Customize your own modular storage cube set. Quick-lock connectors make assembly easy. Grid panels sold separately. Price is for one connector.
Not sure if this is will fit your existing panels? On ours, we can fit 3 pennies in the slit very tightly. 
Purchase the matching Grid Storage Cube Panels here.
Measurements:
1.5" L x 1.5 W x 1" H
Product Notes:
How to Calculate the Number of Panels and Connectors Needed:
First determine the number of columns and rows you are building.
# of Panels needed = (3 x columns x rows) + columns + rows
# of Connectors needed = 2 x (columns + 1) x (rows + 1)
e.g. For a display that is 2 columns across and 3 rows down (shown in first picture below):
# of Panels needed = (3 x 2 x 3) + 2 + 3 = 23 pcs
# of Connectors needed = 2 x (2+1) x (3+1) = 24 pcs
**The above equation is meant to help you determine the number of pieces needed. We are not responsible for any errors in the equation or errors in your calculations.
This equation only works when building a complete square or rectangular structure with one side left open, like the examples pictured below.
The equation does not work when building an irregular shaped structure like a pyramid or triangle, or when building an enclosed cage. In this case, you will need to add or subtract some pieces to fit your needs.
---
Share this Product
---
More from this category