Contact Us
Email us at
sales@displayimporter.com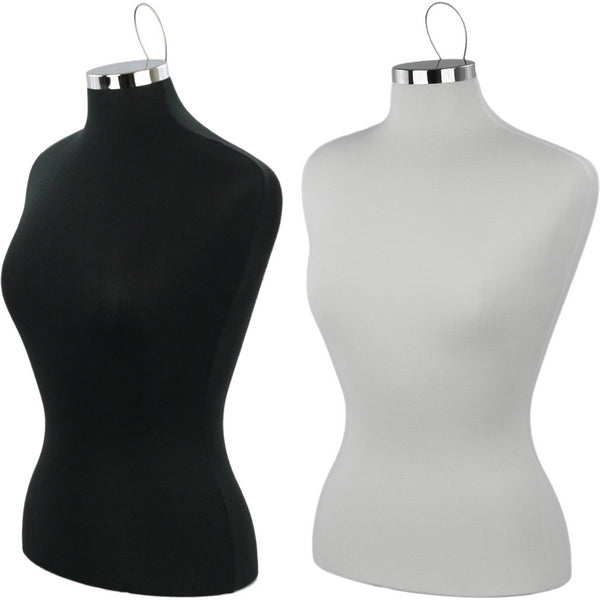 Click below for more photos. Desktop: Hover to zoom in.
MN-448 Pinnable Female Dress Form Mannequin with Hanging Wire Loop (Base Ready)
---
Comes with a chrome metal round neck cap and hanging wire loop at the back of the neck. Hanging form can be hung from wall hooks, the arms of clothing racks, or free stand on a counter or tabletop.
Bottom of leg also has a 7/8" pole plate flange already installed where a dress form base (sold separately) can be added to convert this to a countertop form. 
The core of the form is made of dense urethane foam and is fully pinnable (can pin directly into the form's core and not just across it like most other display dress forms). Urethane foam is rigid, dense, and will maintain its shape, unlike economy dress forms that are made of soft styrofoam that will easily dent, chip or flake. 
Aside from being a display form, this is a great entry level dressmaker form for designing, pinning, and draping for the budding designer or for small sewing projects. Truly professional dress forms that have collapsible shoulders and rolling caster bases will often cost several hundred dollars. You can also add markings for the reference lines to the dress form by using draping tape or pinning ribbon over those points.
Can also be paired with a Chrome Metal Costumer Display Stand for Hanging Forms (MA-044).
Form is also available in a matching male body, MN-449.
Measurements:
Torso 24.5" Tall
37.75" Chest, 27.5" Waist, 36-3/8" Hip
14" Neck, 15.5" Shoulder
Product Notes:
Mannequins, dress forms, and torso forms are packaged 1 set per box. This item will be shipped separately from other items.
Clothing sizes are approximate and can vary amongst the different clothing brands. Please refer to the chest/waist/hip measurements provided.
---
Share this Product
---
More from this category