Contact Us
Email us at
sales@displayimporter.com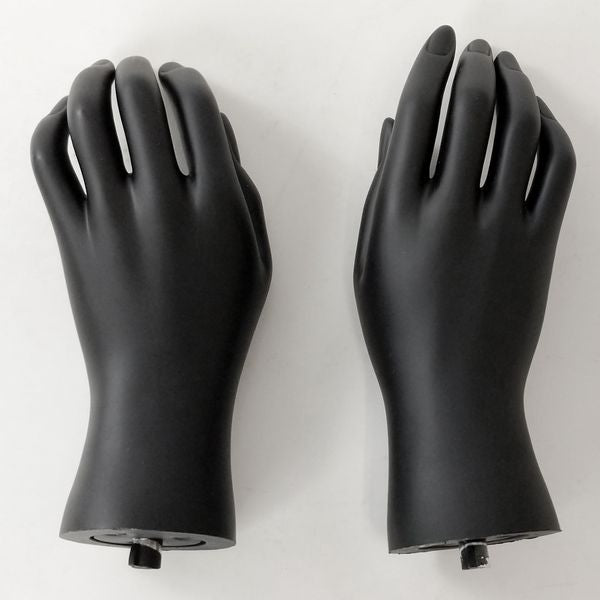 Click below for more photos. Desktop: Hover to zoom in.
MN-HandsK Child Kid Pre-Teen Replacement Mannequin Hand
---
These are a surplus of child mannequin hands. Sold as one piece left or right hand, or sold as a pair.
Connector type is keyhole type where you insert and twist.
Measurements:
They are all open palm hands with fingers slightly curled forward (a relaxed/resting pose). The average measurements are listed below with a deviation of +/- 0.25".
Overall display, excluding connector tab 6.75" H x 3" W.

Hand is slightly curled so below measurements are along the hand's curve and not on a straight plane.

Tip of middle finger to wrist, front of hand 5.75" H
Width of palm, below fingers 2.25"
Height of palm, from below fingers to wrist 3.25"
Wrist 5" around
Base circumference 6-3/8" around
Base cross section 2-1/8" L x 2" W
Product Notes:
Hand sizes can be subjective to each person. e.g.: Some people have small hands and will deem these display hands the right size while some people have large hands and will deem the display hand small relative to their own hands. Display hand is 8" to 9" L (Measured from the back of hand, along the curve from fingertip to end of the wrist). The item itself not accounting for the curve is approximately 7-8" L.
---
Share this Product
---
More from this category